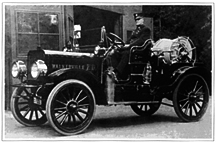 Above: The Walkerville Fire Department drove this Menard Fire Truck.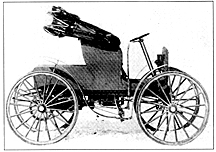 Above: 1908 Menard Highwheeler
Below: Restored 1908 Menard Highwheeler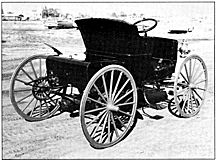 Blacksmith and prominent wagon-maker Moise L. Menard (later mayor of Riverside), a native of Belle River, saw that the automobile was the coming thing. He arranged for M.B. Covert of Detroit to design a car that he could manufactured at his wagon works.
The result was the 'Menard Auto Buggy', a Highwheeler passenger vehicle with a two-cylinder, opposed, air-cooled engine which he built for two years. Highwheeler's were automobiles with oversized tires, which were in vogue around this time. These early Menard vehicles, crudely made but durable, were manufactured completely in Windsor rather than assembled from imported parts.
The Menard was well built and enjoyed good sales as far away as the Prairies and Quebec. In 1910 the company changed its name to The Menard Auto Buggy Co., and added a new 16 h.p. water-cooled engine, for the reasonable price of $625. But with growing competition and fading popularity of the Highwheeler, Menard switched over to the manufacture of trucks.
Menard produced a series of trucks, from one-ton to three-and-a-half ton models. in 1916 Menard built an aerial ladder fire truck for the Walkerville fire department.
Menard sold out to the Maple Leaf Manufacturing Co. of Montreal in 1920 and entered public life. He became mayor of Riverside in 1923 - 1924 and died in 1946.