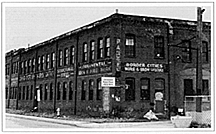 Above: This brick building in the 900-block of Walker Road was the home of Seagrave Fire Apparatus Company in the early 1900's.
Below: 1914 Seagrave Firetruck used in Ottawa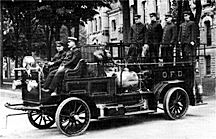 Warren E. Seagrave, son of the founder of the Seagrave Corporation of Columbus, Ohio, established the Walkerville Branch of the W. E. Seagrave Fire Apparatus Company. Opening in 1904, Seagrave became the first Canadian company to produce fire apparatus. In 1907 Seagrave delivered his first three motor fire engines to Vancouver .
Due to financial troubles in the 20s, Seagrave merged with Loughhead Machine Company in Sarnia, although the move failed and the company closed down in 1923.
In 1930, Seagrave resumed Canadian production in St. Catherines and after a long-time merger with The Bickle Fire Engine Company that ended in 1956, Seagrave merged with V.B. King, builder of truck bodies and trailers, to form King-Seagrave.
Links
Ottawa Fire Department Motorized!